AUDACITY: RAY COMFORT'S FIRST SCRIPTED SHORT FILM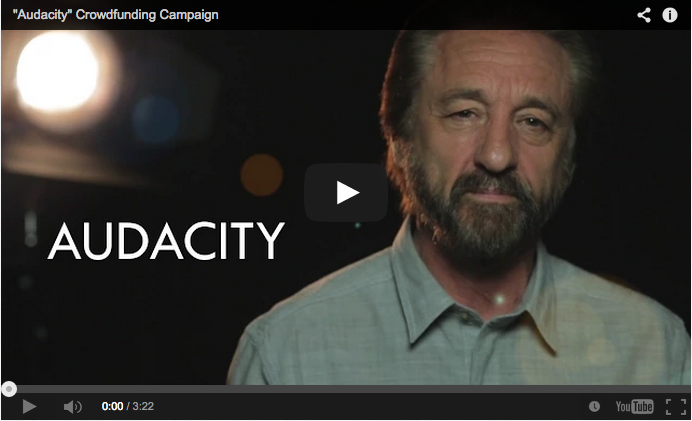 About the Film
Ray Comfort and the team behind the award-winning "180," "Evolution vs. God," and "Noah—And the Last Days" are making their first scripted short film, using professional actors.
"Audacity" is about a Christian (Peter) struggling to find his voice as a young believer in a culture that rejects the biblical view of homosexuality. The movie follows him as he learns to lovingly speak the truth to his friends, in spite of their opposing views.
Why Make This Movie?
It was not our desire to make a movie about a political agenda. Our desire is to share the gospel, and to see hearts and minds changed for eternity. We consistently get emails about people repenting and trusting Jesus after watching one of our movies. Our prayer is that God would use this film in the same way.
How Can I Help?
There are three things you can do:
Pray:
Pray that God's will would be done.
Share:
Share this page on Facebook, Twitter, and other social media outlets.
Support:
On the right side of this page you will see different levels on which supporters can participate. Each level has different gifts we are offering as a token of our appreciation. Choose the level you feel led to participate in, and in return we will send you the gifts as our thank-you.
The gifts are cumulative (with the exceptions of the DVDs and booklets). Each gift level receives everything in the previous levels (e.g., the $50 level also receives everything in the $25 and $10 levels, etc.).

What is Crowdfunding?
Crowdfunding is the practice of funding a project by raising small amounts of money from a large number of people. Supporters choose the level they wish to participate and in return we send the gift associated with their support.
Why Crowdfund?
Crowdfunding a project like "Audacity" does a lot more than just raise money for the project. It also raises awareness and builds momentum. For past projects like "180," we experimented with purchasing ad space to promote the movie. But time and time again we have discovered that the way millions of people will experience the gospel in our films is through people like you sharing them on social media.
The more you share, the larger the net is cast for individuals to be aware of the movie. Through your efforts, millions could hear the crucial message of this film.

Oscar Navarro (Director of Donor Relations and Development): Why does this movie need to be made?
Ray Comfort: For the most part, homosexuality has been embraced as morally acceptable in contemporary culture. Sexual sin was once frowned upon, but in time, it's become accepted as the norm by our sinful world. As Christians, we've come to terms with fornication and adultery but we bristle at the thought of homosexuality gaining a similar foothold, so we put up a battle. We have concern that fornicators will not enter Heaven, but that concern has waned for homosexuals. Instead, we are more disturbed that they are destroying the fabric of our Judeo-Christian society. "Audacity" puts the focus where it should be. Author Joe Dallas rightly said, "Our response should show interest and concern, two qualities the church has rarely shown when dealing with homosexuality. We must admit we have mishandled the issue in many ways: we have veered between ignoring the problem to becoming obsessed with it, we have made hasty and false generalizations at times about homosexuals themselves, and we have shown a tremendous zeal for defeating the political goals of gays while showing less concern for their eternal well-being."
ON: What do you hope this movie will accomplish?
RC: We want Christians to learn how to address this contentious issue biblically, and we want this movie to be a resource they can share with those who need it. People who engage in homosexual behavior, like all other sins, need to hear above all about the deceitfulness of sin, the holiness of God, and the beauty of the cross. Our unashamed goal is to reach those who are on their way to Hell with the message of everlasting life.
ON: Why were you originally reluctant to make this movie?
RC: To speak against homosexuality is seen as tantamount to being a hate-filled racist. But we have no choice. According to the Bible, homosexuals—along with fornicators, idolaters, adulterers, thieves, and other sinners—will not inherit the kingdom of God, and if we care about where they will spend eternity, we must warn them. Even though we are motivated by love, you can be sure that the secular media will twist what we say to put us in with the "God hates fags" folks. None of us want to be painted with that dirty brush, but we mustn't be concerned about what this world thinks. All that should concern us is that we have God's approval.
ON: How is your approach on the issue of homosexuality different from that of others?
RC: Jesus used parables to illustrate biblical truths, and thanks to a talented film crew we have been able to produce two very powerful scenarios that will greatly impact the viewer. Plus, we have used the almost-forgotten principle God has given us to deal with homosexuality.
ON: What is the synopsis of the movie?
RC: I once read a synopsis of the epic movie Ben Hur, which won an unprecedented 11 Academy Awards and was the highest grossing film of 1959. It is a breathtaking, amazing, exciting movie, with an unforgettable storyline that almost brings tears to my eyes to even talk about. But the synopsis I read was something like "A story about a Jew who was sent to a galley ship." I don't think that I can do our movie justice with a few words, so I will instead take a quote from Mark Spence, producer of "180" and our other movies. When I sent him the initial draft of the movie, he replied: "I cannot believe this is the first version of the script. It is soooooo good. I am so pumped. This is going to be amazing. Wow oh WOW oh WOW oh WOW!" I think he liked it. I believe you will too.
FAQs
When will this movie be released?
God willing, it will be released on DVD in May 2015. Our supporters are scheduled to receive their Special Edition DVDs one month earlier.
When will the red carpet premiere be?
It will likely be near the DVD release in May.
Can I bring a friend?
Yes. The premier, dinner, and Backyard BBQ events are all about you, our partners.
Can I increase my donation once it's been made?
Yes! You can choose to take multiple gift levels or have them add up to the gift level of your choice. We are very flexible and want to make sure you know how much we appreciate you!
I just want to give. Can I forfeit my gift?
Yes, in the process of submitting your support you will be given the option of opting out of your gift.
What options do I have for the "Thank You" movie credits?
You can dedicate the movie credits to a friend, family member, or organization (upon approval). You can also opt out of receiving movie credits.
What happens if you exceed your goal?
That would be an incredible blessing! The true cost of the film is greater than our crowdfunding goal (just over $300,000). The goal is for pre-production only. Also, just like with "180" and "Evolution vs. God," we plan to give away as many copies of the DVD as we can and provide as many translations as possible (such as Spanish).
Is my donation tax-deductible?
Yes. We are a U.S. 501(c)3 non-profit organization, so your charitable gift is tax deductible to the full extent allowed by the United States tax law.
When will I receive my gift?
We appreciate our supporters and aim to get everything into your hands as soon as possible. The gifts will release at different times based on various production factors. The behind-the-scenes "Backstage Pass" video updates will start immediately, while the Special Edition DVDs we hope to get to our supporters one month before the general DVD is released. We will provide updates as we get closer to fulfilling the gifts. What we know for sure is this: you are first in line!
How do I support this effort?
On the top right of this page you will find a button labeled "DONATE." Click that button and then follow the three easy steps.
Can I support through PayPal/ebay?
Yes. Here is the link for PayPal/ebay donations: http://ebay.to/ZB349B. To assure that your recieve your gifts please email us a copy of your reciept at supportaudacity@livingwaters.com.
What happens if the funding goal is not reached?
Either way, we are committed to making this film. Any funds raised will be used to help offset the costs associated with the movie.
How does international shipping work?
We will ship your gifts to nearly any country with no shipping charge. However, there could be local customs charges that you would be responsible for. Among the few countries that we aren't able to ship to (for local receiving problems, not shipping charges) are China, North Korea, Ghana, Cuba, Uganda, Kenya, Nigeria, Iraq, Iran, and Indonesia.
Feel free to email SupportAudacity@livingwaters.com with any questions.
DONATE
$333,804
RAISED
$175,000
GOAL
| | | |
| --- | --- | --- |
| | | |
| This Campaign | 2,618 | 191% |
| has ended. | Believers | Funded |
This campaign has ended.